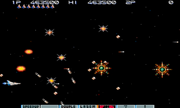 Zub Rush MK II are Sub Bosses appearing first in Salamander and then in the arcade version of Gradius III. They are an upgraded version of the original Zub Rush in Gradius and there are two varieties of them.
Attack Pattern
The attack patterns of the Zub Rush MK II and Zub Rush are the same but they vary depending on how many Zubs are in the same time. Gradius 3 Arcade increases the danger level of Zubs by allowing them to fire bullet spreads and also appear in fewer numbers, meaning less chances for powering up. On higher loops, in most games they fire suicide bullets.
Trivia
For unknown reasons, Zub Rush MK II was replaced by the normal Zub Rush Sub Boss in the Boss Rush, in Gradius III SNES version.
Appearences

Ad blocker interference detected!
Wikia is a free-to-use site that makes money from advertising. We have a modified experience for viewers using ad blockers

Wikia is not accessible if you've made further modifications. Remove the custom ad blocker rule(s) and the page will load as expected.