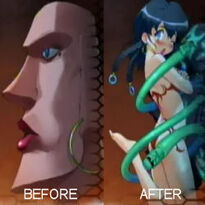 In Gokujou Parodius
Those who are lucky to avoid the
Moai Battleship
, you are treated with Yoshiko! Stay to the far left, aiming and shooting at her eye. She shoots out horizontal moai that are like homing missiles. After every few of these, she
shoots out a LONG one, that can be avoided by going the opposite way she isn't going! Keep shooting her in the eye!
In Otomedius
Yoshiko is the Empress of Easter Island, a weird society of sentient Moai statues. The Gofer Sisters only tend to go to Yoshiko when they want a distraction. The alliance is tentative, and seems to be based entirely on centuries of the Moai being used by Bacterians as weapons emplacements.
Appears in
Ad blocker interference detected!
Wikia is a free-to-use site that makes money from advertising. We have a modified experience for viewers using ad blockers

Wikia is not accessible if you've made further modifications. Remove the custom ad blocker rule(s) and the page will load as expected.