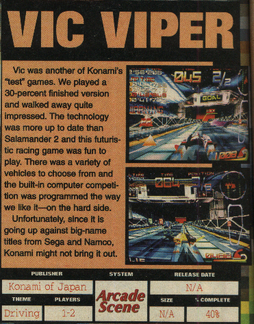 Vic Viper
is an unreleased racing video game for the Arcades. It was to star
Gradius
' own signature ship, the
Vic Viper
(and various other fighters) on a game resembling the F-Zero or Wipeout series. It was first shown in the November 1995 issue of Electronic Gaming Monthly with a "40% complete" status. After being shown, the game quietly disappeared from release lists.

In September 2011, the game's completed soundtrack was released on disc 10 of Konami Shooting Collection, an album featuring soundtracks from Salamander, TwinBee, and many other Konami shoot 'em ups.
Ad blocker interference detected!
Wikia is a free-to-use site that makes money from advertising. We have a modified experience for viewers using ad blockers

Wikia is not accessible if you've made further modifications. Remove the custom ad blocker rule(s) and the page will load as expected.