Venom Mothership refers to the final level of
Nemesis 2
,
Salamander MSX
,
Nemesis 3
, and
Gradius V
.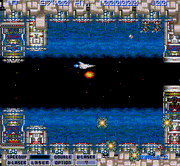 Background
Venom Mothership is the base of
Dr. Venom
and his
Bacterian
troops. There are three different versions of this mothership; the first version appears in Nemesis 2 and Salamander MSX, the second version appearing in Nemesis 3 and the lastest version appears in Gradius V.
Appearences
Trivia
The mothership is seen in the nemesis 2 MSX box art (Also Nemesis 90 Kai).
If one takes a close look at the stage layout, it can be deduced that the Venom Mothership is actually a gargantuan Core Warship.
Ad blocker interference detected!
Wikia is a free-to-use site that makes money from advertising. We have a modified experience for viewers using ad blockers

Wikia is not accessible if you've made further modifications. Remove the custom ad blocker rule(s) and the page will load as expected.