Valhalla
Talk

0
683pages on
this wiki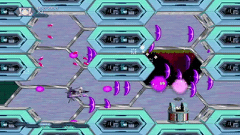 Valhalla is the final level of Otomedius Gorgeous. It's a moon-based war factory orbiting the Earth of the Gofers' home Earth iteration. Valhalla is currently in standby as a backup base of operations, as the Gofers have moved their base of operations into Bacterian Tokyo for easier access to the rest of the Multiverse. Being just a war factory and hanger, Valhalla lacks many things which Bacterian Tokyo provides.
Description
Edit
Valhalla is a Bacterian Moonbase, with a boss rush section at the end. Its design features a heavy hexagonal design, making it look somewhat similar to a honeycomb. In some hexagons, you can see the classics of Konami like Xexex, Detana!! Twinbee and Parodius.
In Scandinavian mythology, Valhalla is a majestic, enormous hall located in Asgard, ruled by the god Odin.
Appearences
Edit