This article is about the Sub Boss found in Life Force, for the Boss from Gaiden, see here.
Background
A collection of small Core Warships, these 3 assault you mid-way through Stage 6.
They are the replacement of Big Core X3 from the arcade version, but attack very differently.
They are the only boss in the game to use a unique boss theme, in this case, Aircraft Carrier.
They do not have much health, and their entire ship can receive damage.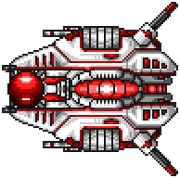 Attack Patterns
Each ship will move up and down in sync, and occasionally release a destructible orb, some of which drop power ups.