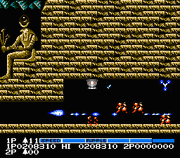 Another new stage created for the NES version of Life Force for whatever reason. It's known as the "Temple Zone". Half of the stage takes place outside the Temple, in blue mountainous area, and the second half takes place inside the Temple itself, which the Vic Viper enters from the blue mountains. The main difficulty here is the tricky manuevers the Vic Viper has to make to make it past some of the Temple. Eventually, the Vic Viper makes it deep within the Temple, and finds a giant Pharoah's head attached to the wall. Everything begins to rumble, as the Temple falls away freeing the Phraoah head, Tutanhamanattack, who begins to attack the Vic Viper.
Ad blocker interference detected!
Wikia is a free-to-use site that makes money from advertising. We have a modified experience for viewers using ad blockers

Wikia is not accessible if you've made further modifications. Remove the custom ad blocker rule(s) and the page will load as expected.