Space Manbow is a guest boss from the game Space Manbow. He is part of the boss rush in Otomedius G: Gorgeous. In the boss rush mode, it is accompanied by a re-arranged version of Moan, the theme song of the last boss in Space Manbow.
Origin
The Space Manbow is a benevolent Bio-mechanical organism with a near impregnable forcefield. Due to its large size, it requires a lot of energy to survive. Due to this, its main food supply is other planets, making this a being feared by many species.
In the original game, scientists came up with a plan to activate a teleporter deep inside ancient ruins that housed the Space Manbow and a massive collection of robots still active after the fall of the planets civilization. By using this teleporter, the player was able to teleport inside.
Attack Pattern
Space Manbow
During the stage it will launch blue lasers off-screen from its back. The player must dodge these lasers or hide behind asteroids.
Otomedius Gorgeous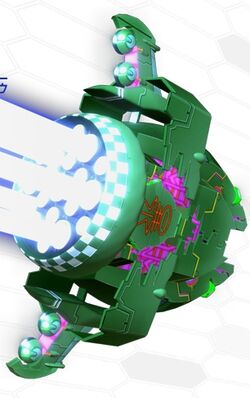 Three turrets fire lasers from a spinning circle in its center outward.
The wings fire bullets and missiles that explode into bullets that spread outwards.
Two turrets in the head fire a total of 8 lasers.
When it goes to the left, it sends out flying bombs from it's mouth.
When it returns to the right side, it releases large blue lasers from it's rear as it accelerates.
It may perform the first and third attacks at the same time.
Trivia
Manbow means "Sun fish" in Japanese.
In Otomedius Gorgeous, true to it's origin, it has no core. It can be hit anywhere like the Eyegol.