Background
Salamander is an artificial planet and final stage of
Salamander
and
Life Force
(where it is referred to as the "Brain Area"). It is the base of the namesake 
attack force
, and is also home of
Zelos Force
who is the core of this base. During the events of
Salamander
, the Vic Viper journeys through the Salamander to reach the fortress of the Zelos Force. As the Vic Viper reaches the inside of the base, he must defeat several
Big Core MK Is
. After passing through the base, filled with so many mechanical enemies and pink lasers rising to destroy it, the Vic Viper finds the Zelos Force and easily destroys it, exiting Salamander before it explodes. In Life Force, despite being referred to as the "Brain Area", it's appearance is largely left unchanged, still resembling a mechanical base. The final boss, Zelos Force, also looks the same, though now is apparently the brain of the "Brain Area", and destroying it causes the giant alien that the game takes place in to explode, though the Vic Viper escapes before it does so.
Enemies
Zelos Force' '(BOSS)
Landscape
Salamander has craters similar to the Moon and has a opening that leads to the planet's c
ore and an escape route.
Anime
The planet appear in Vol.1 as the main planet.
Trivia
In
Life Force
(Arcade) it had its graphics changed, making it the "brain "of Zelos.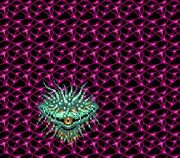 Appears in
Ad blocker interference detected!
Wikia is a free-to-use site that makes money from advertising. We have a modified experience for viewers using ad blockers

Wikia is not accessible if you've made further modifications. Remove the custom ad blocker rule(s) and the page will load as expected.