Salamander refers to the
Bacterian
special force, not the
Salamander
game.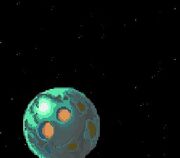 Background
In Salamander, Bacterion sent a special force named Salamander along his new organic weapon, Zelos Force, to planet Latis so that the weapon can change Latis into an Organic Fortress. Fortunately, Vic Viper and Lord British defeated the Salamander force and Zelos Force before it could get the chance. The Salamander force was revived by a reincarnated Venom in Salamander MSX, but was defeated again, except this time by different ships. It was revived a third time by Doom, but was again defeated.
Appears In
Ad blocker interference detected!
Wikia is a free-to-use site that makes money from advertising. We have a modified experience for viewers using ad blockers

Wikia is not accessible if you've made further modifications. Remove the custom ad blocker rule(s) and the page will load as expected.