Background
Reckless is the stage 4 boss of Nemesis GB. It is a large core situated in a towering base.
Attack Pattern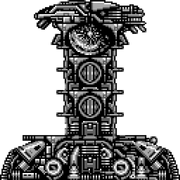 Reckless' tower moves up and down, all the while destructible missiles are being shot out of the ground. While this is happening, the six orbs moving on the tower are firing normal shots as well. However, these orbs can be destroyed, and do not replenish. The core itself is quite vulnerable, taking only a few shots with a laser to dispatch.
Ad blocker interference detected!
Wikia is a free-to-use site that makes money from advertising. We have a modified experience for viewers using ad blockers

Wikia is not accessible if you've made further modifications. Remove the custom ad blocker rule(s) and the page will load as expected.