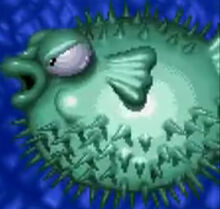 Puuyan is the boss of Stage 8 in Parodius Da! Arcade and SNES, and the Stage 6 boss of the NES version. He is not in the GameBoy or PC-Engine versions of Parodius Da!.
He is a giant puffer fish who can be larger the longer you fight him.
Attack pattern
Puuyan moves around trying to ram you at first, but after you shoot him he backs up. He shoots a LOT of spikes that come out around his body.
After shooting Puuyan a few times, he'll grow larger. And larger. And larger. Soon he starts taking up huge portions of the screen. The spikes grow too, but don't worry about that. When he has one hit left, he takes up 90% of the screen, then explodes. His weakpoint is the mouth.
On the Famicom version, he doesn't take up much of the screen.
Strategy
Move up and down so Puuyan doesn't ram you. When he releases the spikes, get in front of the mouth and shoot away. Back up when neccessary.
However, if a spike comes out of his mouth, hang near the back. More risky, but safe.
Ad blocker interference detected!
Wikia is a free-to-use site that makes money from advertising. We have a modified experience for viewers using ad blockers

Wikia is not accessible if you've made further modifications. Remove the custom ad blocker rule(s) and the page will load as expected.