O.V.U.M. is the final boss of Gradius Gaiden. It takes the form of multiple bosses from Salamander.
Attack Pattern
3 Intruders circle in from offscreen to form a Zelos Force. After a certain time or amount of hits, it shifts forms again into a Brain Golem before disintergrating.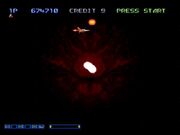 Trivia
The acronym O.V.U.M is the spelling of the word Ovum which means egg.
It has never been known who exactly O.V.U.M. was and maybe we will never know.
Shortly before the battle begins, you can see a red face which looks more like an Intruder's face. Could this be O.V.U.M's physical form before shapeshifting or did Konami just put that there with no meaning whatsoever?
O.V.U.M.'s name stands for "Original Visions of the Ultimate Monsters", which may mean it is the power of ultimate evil condensed into physical form.
It may also be the fusion of cells from Intruder, Zelos Force, and Brain Golem that ended up in the Dark Nebula and grew into one combined cell.