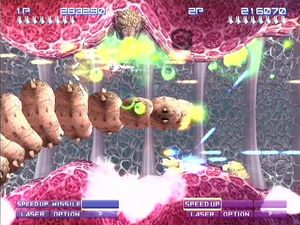 Background
Stage 4 of Gradius V is a giant organic planet trying to get close to Planet Gradius so that it can consume its life. Just like it says it is a cell full of bateria since everything inside are nothing but except only extraterrestrial life-form. The interesting thing about this stage is that some of the backgounds are from actual photos of blood vessels. The toughest part of this stage is when the ship must go through a wall of cells. You can break through the wall by shooting it, but the cells quickly regenerate, so be careful not to crash into the cells you haven't destroyed. There's also huge worms that get in your way and you need to shoot their tail to defeat them. Fortunately, this level scrolls at a slower pace than the other levels in this game. The boss of this stage is the unofficially named Huge Heart.
Ad blocker interference detected!
Wikia is a free-to-use site that makes money from advertising. We have a modified experience for viewers using ad blockers

Wikia is not accessible if you've made further modifications. Remove the custom ad blocker rule(s) and the page will load as expected.