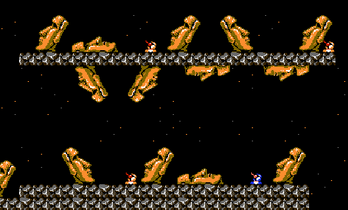 The (good) Old Stone Age is the fifth stage in
Gradius II
(NES and Arcade).
The main part of this level are the Moais. This level isn't that bad, when you see a horizontal head, just hover right in front of the face and shoot. For vertical heads, stay right above it, or below if you're at the bottom, and it won't be able to shoot you. Stay there until the screen moves enough, then go to the next one. You can basically leap frog from head to head until the end of the level. After not too long, you'll find yourself powering up to face the sub-boss: Jumping Moai. Then continue until reach Big Moai.
Ad blocker interference detected!
Wikia is a free-to-use site that makes money from advertising. We have a modified experience for viewers using ad blockers

Wikia is not accessible if you've made further modifications. Remove the custom ad blocker rule(s) and the page will load as expected.