Emon-5 is one of the first characters presented in the original Otomedius, and the only male character of the game. Originally, He's the main character of Ganbare Goemon series.
Emon-5 was replaced by Arnval after he went kicked out. He also shares movesets with Arnval. However, his wingwoman, Emon-8, refuses to take avenge with the G Organization due of his missing appearance in the sequel.
He was voiced by Daisuke Namikawa.
Initial weaponry
Otomedius
S = Speed
M = Flying Torpedo
O = Formation Option
D = Reverse
L = Twin Laser
? = Force Field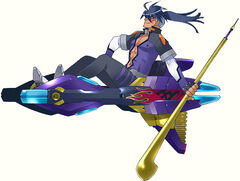 Trivia
Originally, Emon-5 was to be in Otomedius Excellent, but was taken out due to collision detection issues.
Emon-5's name specifically switch the "Go" into Five after his name taken in Japanese, originally named Goemon.
Emon's Xel Viper is based from Thunder Cross's M-45 fighter.
This is the first male Otomedius character that can only use as playable in the first game.
Emon's personality is same as the original Goemon, however he speaks too much taboo words in a despite language to the Angel Squadron when it comes of disappointing conversations.
Emon's DLC BGMs are based from the Thunder Cross / Space Manbow series, such as "First Attack", "Great Battleship", "Aquarium" and "Skywalker".
External links