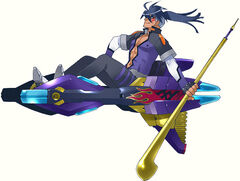 Emon-5 is one of the first characters presented in the original Otomedius, and the only male character of the game. He's from the Thunder Cross series, with a bit details of Ganbare Goemon and Space Manbow.
Emon-5 was replaced by Arnval on Otomedius Excellent after he went M.I.A. He also shares a moveset with Arnval.
Trivia
Originally, Emon-5 was to be in Otomedius Excellent, but was taken out due to collision detection issues.
Ad blocker interference detected!
Wikia is a free-to-use site that makes money from advertising. We have a modified experience for viewers using ad blockers

Wikia is not accessible if you've made further modifications. Remove the custom ad blocker rule(s) and the page will load as expected.