Crystal Core D-X02 is the boss of stage 5 (Antarctica) in Otomedius and Otomedius Gorgeous.
Attack Pattern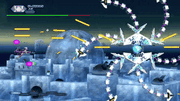 Crystal Core D-X02 attacks by firing lasers in all directions, then using its crystalline tentacles to reflect the lasers to other directions.
Trivia
Inside the coreship there's a box containing ancient message from Irene La Tias, a princess (and the damsel in distress) from a Konami shooter game, Xexex. Irene is often mistaken for piloting the coreship because of this, but she's not.
Appearences
Ad blocker interference detected!
Wikia is a free-to-use site that makes money from advertising. We have a modified experience for viewers using ad blockers

Wikia is not accessible if you've made further modifications. Remove the custom ad blocker rule(s) and the page will load as expected.