The Cat Submarine MK II is a upgraded version of the Cat Battleship MK I that appears in Gokujō Parodius!. This version of the Cat BattleShip has more weapons than the pirate ship, the cat also has some new designes add to it such as a captain hat and goggles. Like the Battleship it will leave into the water on it's own whether or not it is defeated, it weapons consists of a missle launcher and new other cannons.
Attack Patterns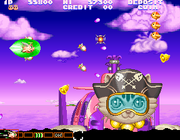 The Cat Submarine will continue to fire it's guns while a penguin of the crew will fire missles at the player from behind. Once it ascends into the corner it will then fire cannons on its sides. The penguin will still fire rockets even when the cat floats away as a final attack.
Trivia
It appears to have broken away for Cat Battleship MK I since it appears shipwrecked in water of Stage 2.
See also