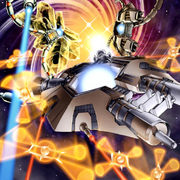 The Boss Rush is a stage introduced in Gradius II, and features Bosses from past games like Gradius or Salamander. The rush consists mainly of 5 or more classic bosses, and always at the end, a new original boss from the game itself appears.
Usually, Zub Rush (or Zub Rush MK II) appears as a Sub Boss at the start of the level to give some power ups to the player.
Trivia
The following boss rushes added theme songs for the respective bosses:
Appearances
Ad blocker interference detected!
Wikia is a free-to-use site that makes money from advertising. We have a modified experience for viewers using ad blockers

Wikia is not accessible if you've made further modifications. Remove the custom ad blocker rule(s) and the page will load as expected.