Background
The Biter is the real first boss in Salamander 2, and consumes the fake first boss (Brain Golem) to make his entrance. Its weak spot is the mouth.
Attack Pattern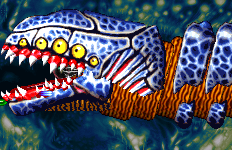 The Biter will spray destructible pink worms in a large spray. These worms sometimes drop power ups, but usually not. Afterwards, it will open its mouth and attempt to ram you. A very simple strategy for this boss is to sit still and simply fire, although you probably need a few options. The worms will be destroyed before they ever hit you, and his ram attack has a major flaw; His mouth stays open, leaving a safespot in the middle.
Ad blocker interference detected!
Wikia is a free-to-use site that makes money from advertising. We have a modified experience for viewers using ad blockers

Wikia is not accessible if you've made further modifications. Remove the custom ad blocker rule(s) and the page will load as expected.