Background
Big Moai are three giant Moai set into the floor, ceiling, and the wall. The only one that needs to be destroyed is the one on the wall, but the other two can be destroyed as well. It is recommended to destroy the one on the floor first, as this will lessen the amount of Moai thrown at you. They also appeared in Gradius Generation, albeit with a slightly different design and attacks.
Attack Patterns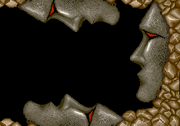 The Big Moai attack by releasing sets of five tiny Moai, who in turn spit out tiny rings. The can swarm you if given the chance, and have a modest amount of health. The Big Moai themselves are hard to damage consistently, as they open and close their mouths at random. They don't have much health though. They have a new attack in Gradius Generation, the ability to spit out bubbles filled with tiny Moai, but they will only do this once each. There are three of them, two on the floor and one on the ceiling.
Ad blocker interference detected!
Wikia is a free-to-use site that makes money from advertising. We have a modified experience for viewers using ad blockers

Wikia is not accessible if you've made further modifications. Remove the custom ad blocker rule(s) and the page will load as expected.