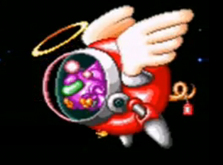 The Big Baron Bee is a boss in the Boss Rush stage of
Jikkyō Oshaberi Parodius
. It is controlled by the
Black TwinBee
from the Twinbee series. It body somewhat resembles
Michael
: A pig, it also has wings and a halo atop it's head.
Attack Patterns
The Baron Bee has two basic attacks: It will shoot bullets at the player with guns it has or it will fire the rotating gears that will home in on the player, once defeated it leaves the player fighting the Evil Bee.
Ad blocker interference detected!
Wikia is a free-to-use site that makes money from advertising. We have a modified experience for viewers using ad blockers

Wikia is not accessible if you've made further modifications. Remove the custom ad blocker rule(s) and the page will load as expected.