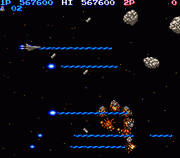 Asteroid Hell
is the fifth stage in
Salamander
and
Life Force
(where it is referred to as the "Lung Zone"). Referred to as the "Asteroid Belt Zone 2", this is yet another asteroid belt the Vic Viper ran into while flying through outer space. Though not much asteroids show up at first, the last part before the boss has a massive amount of asteroids come flying from the right, which you must avoid while enemies are attacking. Eventually, the Vic Viper reaches "Death" and destroys it. In Life Force, as always, the background has been changed into an organic one, pink colored. Again, the asteroids are replaced by chunks of pink growth/flesh, and Death has been converted to "
Gau
".
Enemies
Ad blocker interference detected!
Wikia is a free-to-use site that makes money from advertising. We have a modified experience for viewers using ad blockers

Wikia is not accessible if you've made further modifications. Remove the custom ad blocker rule(s) and the page will load as expected.