The Angel Squadron is a force created by G with the mission of defending the Solar System against the Bacterians. This squadron began with only four members, but it increased to eleven with the growing Bacterian forces.
Members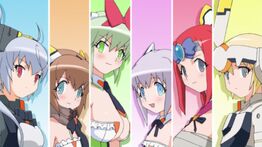 Ex-Members
Emon-5: Xiel Viper pilot, Missing in Action.
Trivia
"G" is an organization formed by Gradians and Humans to defend against the Bacterians. Other members of G are the famous Vic Viper, Lord British, Twinbee, Winbee and Gwinbee.
Ad blocker interference detected!
Wikia is a free-to-use site that makes money from advertising. We have a modified experience for viewers using ad blockers

Wikia is not accessible if you've made further modifications. Remove the custom ad blocker rule(s) and the page will load as expected.